DIGITAL TECHNOLOGY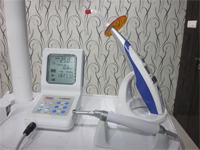 Modern dentistry has so much to offer patients today. New advancements have streamlined treatments, enhanced results, and delivered quicker, better ways to deal with nearly every kind of dental emergency, maintenance task, restorative treatment, or cosmetic problem. In fact, one of the benefits of taking advantage of modern technological changes in our DENT-O-CARE dental clinic is that the results are immediately apparent at each appointment.
SURGERY
The dental team and laboratory technicians use the most advanced dental equipment from Germany and Japan, and work closely together to ensure results of the highest standard.
DIGITAL IMAGING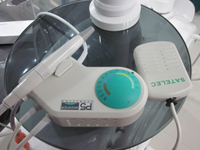 Dr.Asmita Patel choose carefully which and when radiographs are taken. There are many guidelines that we follow. Radiographs allow us to see things we cannot see with our own eyes. Radiographs enable us to detect cavities in between your teeth, determine bone level, and analyze the health of your bone. We can also examine the roots and nerves of teeth, diagnose lesions such as cysts or tumors, as well as assess damage when trauma occurs. Dental radiographs are invaluable aids in diagnosing, treating, and maintaining dental health.
Exposure from dental radiographs is extremely minimaL At DENT-O-CARE Dental Clinic, our clinical staff use Digital Imaging Technologies within the office.
With digital imaging, exposure time is about 60 percent less when compared to traditional radiographs
Digital imaging can also help us retrieve valuable diagnostic information. We may be able to see cavities better.
Digital imaging allows us to store patient images, and enables us to quickly and easily transfer them to specialists or insurance companies.
DIGITAL PATIENT FILES SAVE TIME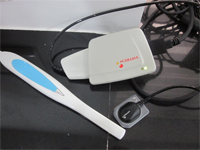 DOur DENT-O-CARE dental office embraces modern technological advances such as digital patient files because they save time for our office staff as well as for our patients. Paperless technology allows us to pull up a patient's dental charts quickly, giving our dentists and staff access to the patient's records in real time. Access to digital files cuts back on the number of errors that occur throughout the year, while delivering an easy way to review a patient's health and dental history quickly. At DENT-O-CARE software automatically give reminder for appointment.
INTRA ORAL CAMERA
DENT-O-CARE provide facility to see one's dental problem on screen. after and before treatment difference they can visualize
ENDOMOTOR (ROBOTIC RCT)
At DENT-O-CARE you can get accurate & precise root canal treatment with this facility. RCT can be be done in single sitting & successfully