WHAT IS FULL MOUTH RECONSTRUCTION?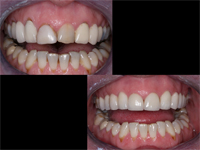 Replacing all the teeth or correcting the imperfections in bite position is referred as full mouth reconstruction. Anyone with short, worn teeth or those that are chipped and broken due to decay or trauma throughout the mouth would be an excellent candidate Combining the science of Neuromuscular Dentistry with the artistry of Cosmetic Dentistry, Full Mouth Reconstruction creates a smile that is functional, comfortable and beautiful.

DENT-O-CARE PRACTICE FOR FULL MOUTH RECONSTRUCTION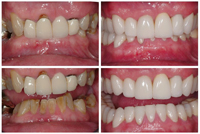 Full mouth reconstruction is let by Prosthodontics specialist who undergoes three years of training in full mouth reconstruction after dental degree treating more than 500 patients. This is a multidisciplinary treatment where dentist of speciality such as Endodontic, Periodontics, implant surgeon, Orthodontist etc. are called upon when needed.
FULL MOUTH RECONSTRUCTION PROCEDURE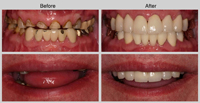 The procedure begins with the examination of the teeth to determine the extent of the complication and the proper treatment that can be used to rectify it. The examination will include:
1) Teeth : root canal, cavities, decays etc. are noted to help what kind of restorative procedures must be used.
2) Temporomandibular joints, jaw muscles and bite : to determine if bite needs to be reprogrammed before restorative procedures.
3) Gum tissues : to determine if the gums are strong enough to be a solid foundation to the newly reconstructed teeth.
4) Colour, size, shape, and proportion of the teeth : to determine the relationship with gums,mouth, lips, side profile and face. Typically the examination requires photographs and X-rays, impressions of both teeth, teeth models that are made from the impressions and a model of the patient's bite. Depending on the results the dentists will draw up a plan of the full mouth restoration.