WHY BABY'S TEETH ARE IMPORTANT?
Children with early milky teeth cavities are more likely to get cavities in their permanent Teeth
IT ALSO AFFECTS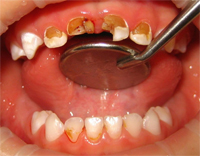 1.Speech
2.Ability to eat
3.Appearance
4.Way they feel About Themselves
At Dent-o-care, we provide painless & fearless dental treatment for children. we strives to provide your children with a positive dental experience because children are very special By scheduling a visit with us early , we can help your child to avoid preventable cavities
HOW TO PREVENT CARRING IN CHILDREN
1) Patients may receive routine examinations and cleanings Twice a Year
2) Pit & fissure sealants
3) Fluoride treatments
4) Healthy diet
This is done usually in mixed dentition ( some permanent and some milk teeth are present) in which, space maintainer, space regainer, holding arches, guided eruption of teeth and jaw correction are done.
PIT AND FISSURE SEALANTS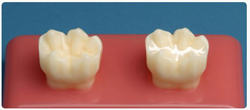 1) Pit and Fissure sealants are plastic coatings that are painted on to the grooves of the back teeth.
2) The sealant forms a protective layer that keeps Food and bacteria from getting stuck in the tiny grooves in the teeth and causing decay.
3) Sealant usually last for many years, but needs to be checked regularly
FLUORIDE VARNISH
1) Fluoride varnish is highly effective to reduce tooth decay if it is applied twice a year.
2)Fluoride varnish provides Extra Protection against tooth decay .
3) Fluoride varnish is a pale yellow gel that sets quickly when applied to children's teeth using a soft brush.
ADVANTAGES OF FLUORIDE VARNISH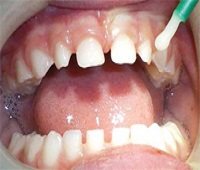 1) Easy to apply.
2) Painless procedure.
3) Pleasant test & fruity Smell.
4) Children can eat & drink after Application.
5) Potential of ingestion of fluoride is Low.
6)Prevents tooth Decay & Reverse Early Decay.
PEDO RCT
Dental carries & trauma are main reasons for tooth to require pulp Therapy. Involved infected pulp tissuse is removed & special type of cement is placed in canal then followed by crown /cap
SPACE MAINTAINERS
it is a treatment used to creat enough room for permanent teeth in order to reduse need for future orthodontic treatment this treatment require after early extaction of decideous (milk) teeth
INVISBLE BRACES BETTER?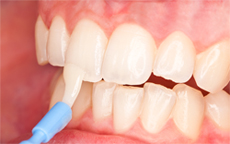 Thumb sacking , Tounge thrusting , Mouth breathing , Night grinding type of habit in children responsible for malposition of Teeth and jaw and causes facial deformative habit breaking appliace prevent teeth & jaw deformative if its given at proper age