FILLINGS,INLAYS AND ONLAYS
WHAT ARE FILLINGS?
Dental fillings are used to restore worn or damaged teeth and treat tooth decay. Fillings are also used to repair cracked or broken teeth and teeth that have been worn down from misuse (such as from nail-biting or tooth grinding). There are a variety of different materials that can be used for filling teeth.smile.
DENT-O-CARE PRACTICE FOR FILLINGS
If it is medically possible, we recommend tooth coloured filling to make sure your fillings go unnoticed. With tooth-coloured filling our member will have natural smile.
WHICH TYPE OF FILLING IS BEST?
No one type of filling is best for everyone. What's right for you will be determined by the extent of the repair, whether you have allergies to certain materials, where in your mouth the filling is needed. Considerations for different materials include:
1) COMPOSITE FILLING (LIGHT CURE FILLING) :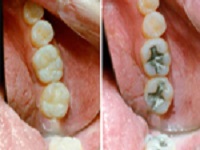 In Modern dentistry Composite Resin is preferred as it is having sufficient strength, is of tooth color & easy to handle. It has got excellent finishing & polishing & various shades are available making it look very natural. Disadvantages are its technique sensitivity, tendency to discolor over long period of time. If not done properly, can result in post filling sensitivity.
2) GLASS IONOMER (GI) FILLING :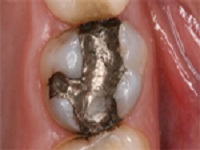 Glass Ionomer filling is white in colour therefore it does not match exactly with the tooth colour. In some cases, no drilling is needed to place a glass ionomer filling so this type of filling useful for small children. It releases fluoride which can help protect the tooth from further decay.
3) AMALGAM (SILVER) FILLING :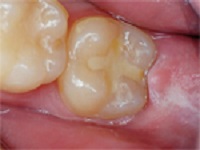 Amalgam (silver) filling is resistant to wear and relatively inexpensive.However, due to their dark colour, they are more noticeable than porcelain or composite restorations and are not usually used in very visible areas, such as front teeth.
INLAYS AND ONLAYS
Inlays and Onlays are two methods of restoring normal tooth structure after decay or other damage. An Inlay is done when the tooth structure replaced is within the cusp tips of the tooth. If the damage is more extensive and the new structure covers the entire chewing surface including one or more tooth cusps, the procedure is called an Onlay.

WHY INLAYS AND ONLAYS ARE MORE BENEFICIAL?
Inlays and Onlays are ways of repairing relatively extensive tooth decay or damage without having to replace the whole outer portion of the tooth as with a crown. Less tooth material is removed so inlays and Onlays tend to be more conservative and aesthetic than crowns. Unlike fillings, these procedures strengthen a tooth's structure. They also tend to last longer than a filling, because the inlay or Onlay material is custom made and bonded to the tooth.